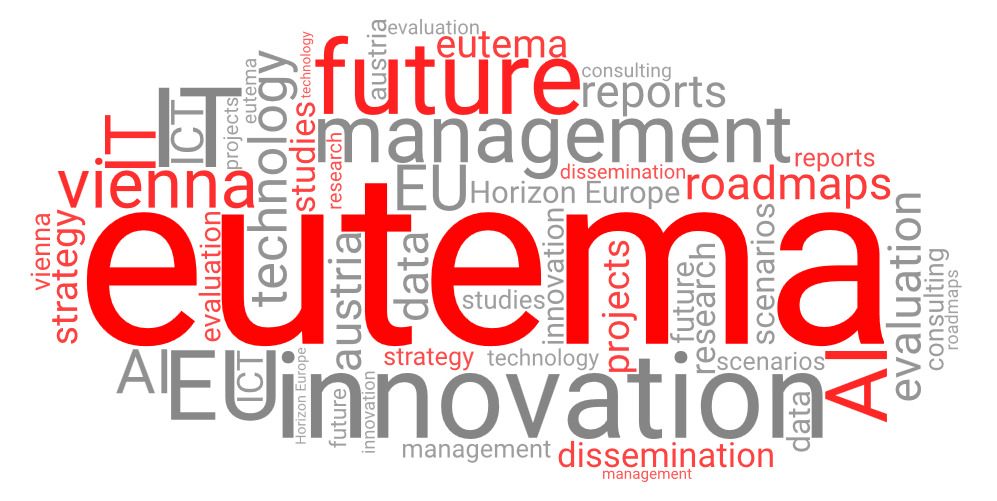 Welcome to eutema, the expert for strategic technology management.
Since 2001 we have developed strategies in the area of technology development for our clients. We successfully realize these strategies in co-operation with our European partner network. Our clients appreciate our technical competence as much as our two-decades of national and international experience. We develop research, innovation and technology strategies and policies, manage complex technology initiatives and plan and realise international research projects.
We support industry in developing and realising complex research projects, provide consulting in national and EU-funding schemes and support them in the strategic orientation of technology policy in Austria and the EU.
For our clients in the public sector, we develop research strategies, manage research programmes, and maintain communication with a diverse range of target groups.
In the area of research policy and technology policy, we perform evaluations of technology initiatives and research programmes and deliver strategic technology studies. Our contacts with companies and public authorities in Austria and the EU provide rapid access to partners, projects, and financing.
Events
Innovating your Business with AI – Experiences and Exampes from Practice, May 5th, 2021, 14-15:30 CEST. Online. Collaboration between special interest groups on AI and Innovation Management at Innovationsledarna and ISPIM. Open to individuals willing to actively participate in the discussion. Registration at bit.ly/2Qv6kUo
TU Wien Digital Humanities Lecture 'Vaccination Passports – A Tool for Liberation or the Opposite?', April 20th, 2021, 17-18:00 CEST. Online via YouTube Livestream at: bit.ly/3dBCVkd. Pre-registration not required. Program & more information at bit.ly/2YdtBe2
German language event: Salzburg Media Summit 2021, Kreativwirtschaft & Digitalisierung, April 12th, 2021, 16:00 CEST. Online. Access the panel discussion. Program, speakers list & more information at bit.ly/3tdWyEl
German language event: Workshop des Rats für Forschung und Technologieentwicklung: Digitale Souveränität, February 26th, 2021, 9-12:30 CET. Online. To register or request an agenda, email Sascha Ruhland (s.ruhland@rat-fte.at) by February 19th.
There are no upcoming events.
Newsletter
If you wish to always stay up-to-date, you can also subscribe to our eutema newsletter.
Click here for further information on how to subscribe (and also unsubscribe) to our newsletter.