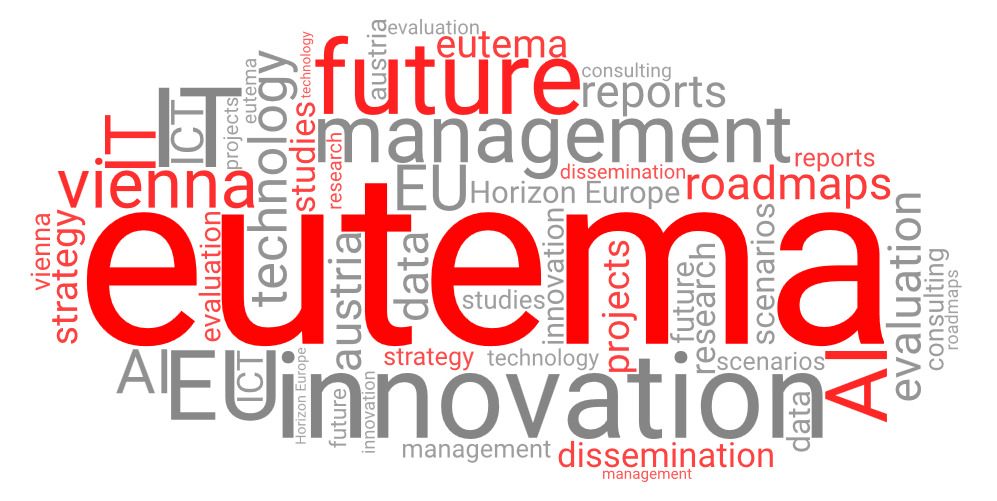 Welcome to eutema, the expert for strategic technology management.
Since 2001 we have developed strategies in the area of technology development for our clients. We successfully realize these strategies in co-operation with our European partner network. Our clients appreciate our technical competence as much as our two-decades of national and international experience. We develop research, innovation and technology strategies and policies, manage complex technology initiatives and plan and realise international research projects.
We support industry in developing and realising complex research projects, provide consulting in national and EU-funding schemes and support them in the strategic orientation of technology policy in Austria and the EU.
For our clients in the public sector, we develop research strategies, manage research programmes, and maintain communication with a diverse range of target groups.
In the area of research policy and technology policy, we perform evaluations of technology initiatives and research programmes and deliver strategic technology studies. Our contacts with companies and public authorities in Austria and the EU provide rapid access to partners, projects, and financing.
---
Events
German language event: Workshop des Rats für Forschung und Technologieentwicklung: Digitale Souveränität, February 26th, 2021, 9-12:30 CET. Online. To register or request an agenda, email Sascha Ruhland (s.ruhland@rat-fte.at) by February 19th.
Description: The event will consist of 3 parts, with 2 keynote presentations in the first. In the second, there will be the opportunity to discuss in 2 parallel groups one of two sub-aspects of digital sovereignty: (1) "digital" technologies that have the potential for Austria and Europe to build corresponding industries and ecosystems and (2) security of digital and overall critical infrastructures through strategic digital sovereignty. The groups will be moderated by Wolfgang Polt (JOANNEUM Research) and Erich Prem (eutema). The short summaries of the most important points from the two topics will be presented by the 2 moderators and brought together in a panel discussion. In addition to the exchange of ideas, the aim of the workshop is to develop a possible Austrian perspective on this European and global topic as well as possible fields of action.
TU Wien Digital Humanities Lecture 'Freedom of Expression in the Digital Sphere', February 2nd, 2021, 17-18:00 CET. Online via Zoom at: https://bit.ly/3sRZmr5, using password 0dzqxqiy. Pre-registration not required. Program & more information at https://bit.ly/2YdtBe2
Signals from the Future: Emerging Technologies in Science Journalism, November 4th & 5th 2020. Online. Registration and more information.
There are no upcoming events.
Newsletter
If you wish to always stay up-to-date, you can also subscribe to our eutema newsletter.
Click here for further information on how to subscribe (and also unsubscribe) to our newsletter.